About Us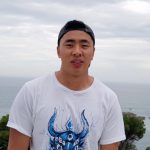 JIMMY TENZING TSHERING graduated from the University of Sydney with a degree in Agriculture. Jimmy has a vast experience working in several firms from a young age undertaking diverse responsibilities building up his work ethics and professionalism. 
---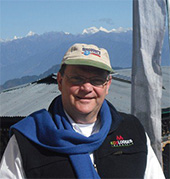 STEVE NOAKES A leading advocate for sustainable tourism practices across Asia and the Pacific. He has been involved in the tourism & travel industry for some four decades and works across commercial, NGO and academic/research sectors. He has commercial interests in ecolodges in Indonesia and Australia, tour operations in Indonesia and Melanesia and the international project management company, Pacific Asia Tourism. He has played  an active leadership role in international not-for-profits such as the Global Sustainable Tourism Council, Sustainable Travel International and PATA. In Australia, he is an Adjunct Professor at Griffith University and a Visiting Professor in Sustainable Tourism and Indigenous Culture at Bond University and, in the Nordic countries, a Visiting Professor (Sustainable Tourism) at the University of Lapland and Visiting Professor (Business Economics) at the Arctic University of Norway. He offers his services to the company when required.
---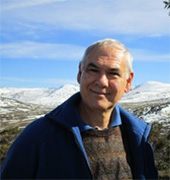 DAVID DARLINGTON, BA Earth Sciences/Dip EdDavid (Dave) has over 30 years experience in park management in NSW Australia.
Dave in his role as Regional Manager with NSW Australia National Parks & Wildlife Service (NPWS), co-managed formal collaborative agreements in conservation and sustainable recreation management with the Royal Government of Bhutan, Department of Forests & Park Services and NPWS.
In 2014/15 Dave worked as an Australian Government volunteer attached to Bhutan's Department of Forests & Parks Services. He provided staff capacity building in sustainable recreation, eco-design infrastructure, signage design standards, development of Nature Recreational Area Planning Guidelines and design principles for mountain bike / shared use trail developments.
Dave has traveled and worked extensively across Bhutan and has an excellent understanding of protected area and sustainable tourism opportunities and issues. As a Senior NPWS Manager Dave had leadership responsibility for strategic management, staff and budget development, asset management, sustainable tourism, business management, infrastructure development, forest fire / incident management and stakeholder engagement.
Dave provides advisory services to the company.
---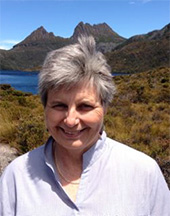 PAT has been involved in field-based environmental education and interpretation for over 30 years. She established and managed an environmental education centre for over 20 years in Kosciuszko National Park, Australia. Pat assisted in developing Bhutan's Royal Botanical Park's visitor information centre interpretation in 2007 and was an Australian Aid volunteer with Bhutan's Nature Recreation and Ecotourism Division, Dept of Forests and Park Services for 12 months in 2014-5. She has travelled widely throughout Bhutan since her first visit to Bhutan in 2005 and presented staff training workshops in Bhutan for park staff and teachers on many occasions. 
Pat holds a BA (Environmental Science), Dip Ed and Dip of Tourism (Tour Guiding). She was awarded a Public Service Medal (PSM) by the Australian Government for her contribution to environmental education and services to Bhutan in 2012.
---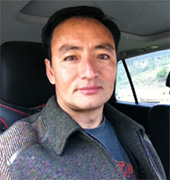 DAGO TSHERING holds several years of experience as a graphic designer. He leads a team of 8 staff with whom all the designing and printing needs are done. From brochures and pamphlets to large scale printing of posters and books are undertaken with high quality equipment and technology.
---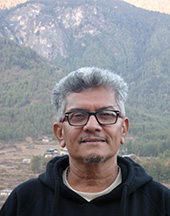 TEJAS JOSEPH A practitioner of Responsible Tourism holds a Masters in English Literature from India and worked in advertising and marketing before finding his stride as a sociologist working with NGOs in the fields of renewable energy, social forestry, organic farming and the setting up of social enterprises. His interest in sustainability was awakened and nurtured profoundly after coming to live in Auroville (an international township in southern India (www.auroville.org) since the mid 90s. Upon entering the world of tourism and hospitality in 2010 he currently serves as an advisor to a leading small luxury resort chain in south India (www.orangecounty.in) overseeing the integration of sustainable practices in their day-to-day operations that help to define milestones for the meaningful expression of Responsible Tourism (RT) that the group is committed to. In the years following, his strategies and interventions (technological and community based) have progressively elevated the environmental and social benchmarks of the resorts, culminating in the winning of the prestigious World Legacy award from National Geographic in March 2015 under the category "Earth Changers". He is also instrumental in developing blue prints for social enterprises with marked environmental and social leanings.
Tejas is also an advisor and trainer for EarthCheck International, a global certifying agency (www.earthcheck.org).
---
---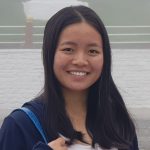 PEMA LHADEN completed her BSc Life Science from Sherubtse College, Kanglung. She interns with Eco Call whenever there are Projects. She provides services for data collection, minute drafting, field works and office management.